History
A tower in Glurns
Our house, the Flurin Tower, is one of the oldest and best preserved buildings of the town of Glurns. The foundations of the tower date back to the early 13th century and are silent witnesses to a very turbulent history. The name Flurin, that describes the tower as well as the restaurant, comes from a judge from the 14th century; Flurin von Turm (literally: Flurin of the tower), who in the year 1382 passed the tower on to Ulrich IV. Von Matsch under the fief of duke Leopold III.
After vast parts of the upper Vinschgau valley had been destroyed by the Battle of Calven, the court was relocated from Mals to Glurns. The Flurin Tower was extended and its unique vaults and arches were built. Finally, after the devastating French attacks of 1799, a new building for the court in Glurns was required: the new courthouse on the town square was built. The Flurin Tower now had a new purpose: it was converted into a prison. The rooms served as the jail of the country court until 1931.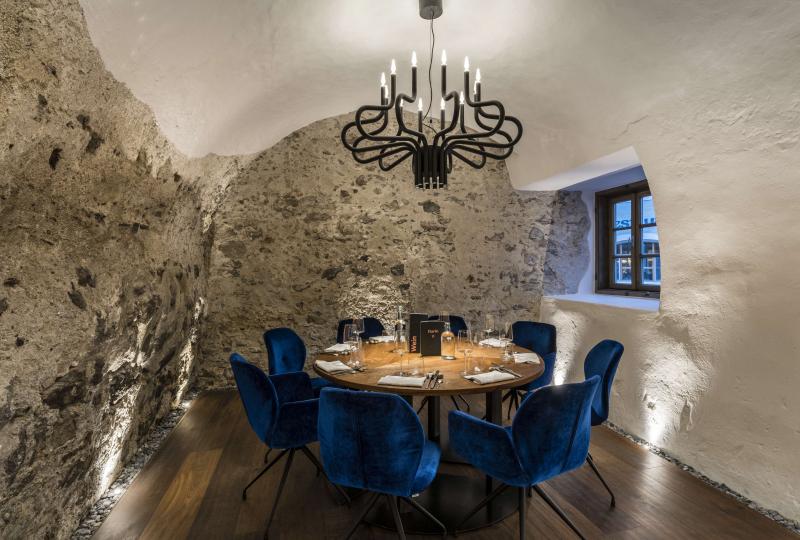 In the 1950s the earl Trapp sold the empty building to the Prieth family, who had to abandon their home in Graun because of the planned construction of a water reservoir. In the 1960s the Flurin Tower served as a residential building and workshop. Leonard Prieth, the son of the family, had been running a joinery in the tower's basement until 2018. He eventually sold the building to the Ortler family, who initiated a complete renovation of the rundown house. In September 2018 Fred Hermann Ortler and his son Thomas opened the flurin restaurant and they have been running it successfully ever since.